Customer Delight - Aiming Beyond Customer Satisfaction
"Happy employees result in high customer satisfaction. 
Passion at work leads to customer delight."
Our mantra for success."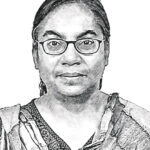 Sriparna Saha is also the Director, School of Architecture and Planning, Graphic Era Hill University, Dehradun.
She runs the programs on Heritage Conservation and Vernacular Architecture apart from other functional areas.
She is a firm believer in the philosophy of Architecture to serve human needs and not the other way around.